Environmental Chambers for Battery Safety Testing
Product Announcement from Cincinnati Sub-Zero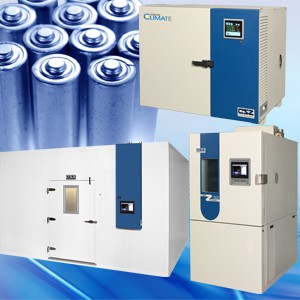 Cincinnati Sub-Zero (CSZ), a leading provider of environmental test chambers with over 70 years of industry experience in designing and manufacturing temperature-humidity controlled products. CSZ offers a large selection of battery test chambers for testing batteries of any size including temperature, humidity, altitude, thermal shock and combined temperature/humidity/vibrations chambers. Chamber sizes range from small benchtop chambers to full environmental controlled rooms. CSZ chambers are used for R&D testing and safety testing combined with battery cyclers for charge and discharge tests.
Battery test chambers are supplied to a variety of industries including automotive, defense, telecommunications, and consumer electronics. The company offers extensive experience in chambers designed for testing NIMH, lead acid and lithium ion batteries, from small battery cells to large battery packs. CSZ supplies environmental chambers to the leading battery manufacturers and global battery test labs.
Sophisticated programming, communication, and other operational features are standard, enabling superior performance in all models. Standard features include the CSZ EZT-560i touch-screen controller, providing the ability to control each chamber separately, or together, for thermal-shock operation. This CSZ-exclusive controller incorporates data logging, data-file access via USB-compatible memory stick, Ethernet control and monitoring, alarm notification via email or phone text message, data-file backup, and full-system security for the ultimate in test-chamber control.
Working together with its clients on their battery testing applications provides the knowledge needed to incorporate safety features applicable to the type of battery to be tested. Below is a list of safety features that may be included on CSZ test chambers.
Venting System
Rapid Air Expansion Compensation
Product Temperature Monitoring
Temperature Limited Sheathed Heaters
Intrinsically Safe Barriers
Cooling for Test Article (CO2 & Immersion)
GN2 Purge
Fire Detection and Suppression
Gas Monitors
CSZ collaborates with the best suppliers in the industry making CSZ the sensible choice for today's demanding battery safety test requirements. Visit www.cszindustrial.com/battery for more information.
About Cincinnati Sub-Zero
The parent of three separate divisions, Cincinnati Sub-Zero (CSZ) is a leading manufacturer of temperature management products for medical and industrial markets. CSZ environmental test chambers, the most valued and competitive in the industrial market, include temperature-cycling chambers, humidity chambers, accelerated stress-testing chambers, thermal-shock chambers, altitude chambers, AGREE vibration chambers, industrial freezers, and more. Standard chamber temperatures range from -73°C to +190°C with optional relative humidity from 10% to 98%; sizes range from bench-top to full walk-in/drive-in rooms. Chambers built to specifications also are available. Please visit www.cszindustrial.com for additional information.
---