Benchtop Vibration Table
Featured Product from Cincinnati Sub-Zero Products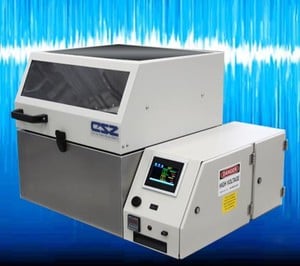 Cincinnati Sub-Zero's (CSZ) new TCB-1.3 benchtop vibration table is ideal for reliability testing of compact products and electronics. The dual-purpose system is available in a 16" x 16" (40cm x 40cm) table size and may be used as a stand-alone vibration table for vibration testing or placed inside of an environmental chamber for combined vibration & temperature testing offering customers' flexibility and greater return on their investment.
Equipped with an all-axis vibration system, the TCB-1.3 utilizes four pneumatically-actuated vibration hammers providing 6 dof random vibration with x,y,z axis and roll, pitch and yaw rotation. The chamber comes standard with two accelerometers, one for control and one vibration monitor with a vibration range of 1 to 60 GRMs.
Design includes a removable lid & easy-lift off control console to allow the table base to be placed inside a typical 16 cu. ft. (456L) or larger chamber and can be operated in a temperature range of -70°C to +168°C. Utilizing random vibration technology combined with an environmental chamber, provides an cost-effective method to perform combined temperature/vibration testing.
Bob Nelson, Vice President & GM, said, "This table allows our customers to economically expand their testing capabilities and provide them with another tool to help discover product failures and make more robust products."
The chamber is equipped with 115V electrical plug allowing for an easy installation. Standard features include vibration safety limit, audible alarm, 2" access port, and more. Vibration table incorporates CSZ's EZT-430i Touch Screen Controller, equipped with state-of-the-art features such as automated alarm text/email, remote monitoring and control, data logging, trend plots and more. CSZ's VibTrak™ software offers full control of the CSZ environmental chamber and benchtop table. Software also includes the ability to generate PSD curves.