BioStore® Freezer Rooms for Ultra Low Cold Storage
Featured Product from Cincinnati Sub-Zero Products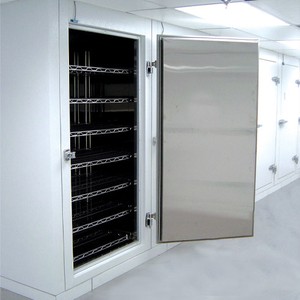 Consistent & Reliable Ultra Low Cold Storage
Ideal for large capacity storage to replace upright freezers with a single unit.
As the need for vaccines and pharmaceuticals rise worldwide, CSZ BioStore® ultra-cold freezer rooms offer an ideal solution for customers with bulk cold storage needs.
These freezer rooms address cold storage concerns of reliably storing material at consistently low temperatures. Ideal for the storage of vaccines, pharmaceutical, genetic material (DNA), donor tissues, and allografts for surgical transplantation.
The BioStore freezer rooms contain individual freezer compartments with temperatures from -75°C up to -40°C (-103°F to -40°F). The compartments are cooled by external and redundant conditioning units to protect critical samples also offering less maintenance and energy savings as opposed to multiple individual freezers. These freezer rooms are comprised of an entry room of 2-8°C and -20°C storage room with multiple freezer compartments (10, 20 or more). This is ideal for large capacity storage to replace multiple upright freezers and cold chambers with a single room.
Benefits
Includes guarantee of continuous operation to protect your valuable samples and materials
Reduces the amount of floor space required for equivalent individual freezers
Saves operating costs by dissipating less condenser heat into the room, saving on your building's cooling system
Reduces maintenance costs by only maintaining a single system instead of multiple individual freezers
Minimizes frost accumulation