CSZ EZT 570S Chamber Controller
Featured Product from Cincinnati Sub-Zero Products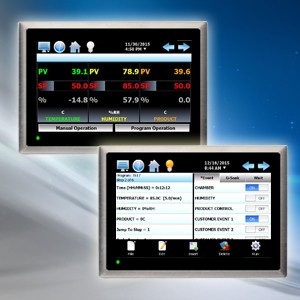 Cincinnati Sub-Zero's (CSZ) EZT-570S controller offers the latest in test chamber programming. All features are built into the controller interface so no additional software or internet required for access to all the features the controller has to offer. Users can choose to operate their controller with familiar drop-down navigation or icon-based navigation like a smart phone. From the home screen users can now manually control, run or stop a profile and view a snapshot of current activity like actual/setpoint values, alarm, datalogging, profile, security, IP address information and more. The home screen is also customizable to view up to five loops at one time.
Communications & Connectivity, Accessibility from Anywhere
Control the chamber remotely from any device (PC, smartphone or tablet) using LAN/VNC. Multiple chambers may also be managed using VNC or CSZ's optional EZ-View PC software.
Alarm notification system sends email and/or text messages in the event of a test chamber alarm, saving valuable tests while reducing downtime.
Create and send emails directly from the controller including data, alarm and audit trail files.
The VNC remote access allows for remote troubleshooting and training on the controller by allowing direct access to the chamber from within the user's network.
Profiling
Program an unlimited number of profiles with up to 99 steps and 1000 cycles.
Ramp steps may be programmed by entering time or degrees C/minute and profiles may be entered using product or air temperature.
Activate optional digital outputs during specific steps of profile.
Easily review profile using trend chart or review list of steps before running profile.
Profiles may also be started with an automated delay.
Profile status view displays current step estimated start / stop date, time and more.
Profiles are easily transferred to different chambers via USB or optional EZ-View software.
Data Logging
Configurable log interval, data file length, file name and an unlimited number of operator notes may be saved to the data file.
Access data files directly from controller or PC.
Easily download profiles, alarm files, audit trail files and data files using USB or email from controller in a compatible .csv file format for ease of use. Files may also be automatically backed up daily for hassle-free file management using FTP.
Open and plot historical data files.
Data logging supports both system and operator digital signatures for quality and regulatory requirements.
Data files may be easily graphed with free PC data viewer software for printing or saving a graph as a .jpg. Since data log files are saved in the .csv format, they can be exported and used in Excel or other programs.
User Convenience & Flexibility
Controller may be configured in any of one of 28 languages – one setting updates icons, menus and help screen.
Fully configurable alarm settings.
Selectable power failure/recovery options.
Full system security allows up to 30 different users with four different levels of security.
Audit trail files track changes in settings by each user.
Import/export configuration settings to other controllers saving time. (Personalized to your use)
Visit our web site to register to receive a FREE demo video, and download User's Manual and product literature.

Play CSZ EZT 570S Chamber Controller Video