Environmental Chambers for Accelerated Testing
Featured Product from Cincinnati Sub-Zero Products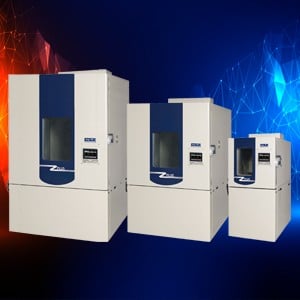 Our Z-Plus environmental chambers are ideal for basic to accelerated stress testing. Rapid temperature transition rates are available up to 25°C/min. These test chambers are available in temperature and / or humidity for temperature cycling and humidity tests. Chambers include sizes from 8 cu. ft. to 96 cu. ft of workspace for testing smaller components to large assemblies and products. A variety of temperature ranges and performance packages with over 150 different models are available to meet any test requirement.
Z-Plus chambers include more features at no extra cost with the addition of user-friendly enhancements such as:
Roll out shelves support large product loads without tipping for easier product access.
CSZ EZT-570S Touch Screen Controller incorporates smartphone technology for easy operation and to reduce programming time. It comes standard with data logging, data file access with memory stick, Ethernet control and monitoring, alarm notification via email and/or phone text message, data file backup system, full system security, power recovery options and more. Learn more at www.cszindustrial.com/EZT570S.
Patented Tundra® single-stage cooling system achieves -45°C with larger live loads and better reliability.
The footprint of the chamber has been reduced to save valuable floor space.
An electronic humidity sensor is used on all humidity models for accuracy and minimal maintenance.
Our environmental chambers are available in single stage (-34°C), Tundra® (-45°C) and cascade (-70°C) temperature ranges to 190°C with an optional humidity range from 10% to 98% RH. Sizes are available in 8 ft3, 16 ft3, 32 ft3, 44 ft3, 64 ft3, 80 ft3 and 96 ft.3
We continue to have the most valued and competitive temperature/humidity test chambers on the market. Please contact us for more information on our Z-Plus test chambers at www.cszindustrial.com.