HALT and HASS Testing Makes Products More Reliable
Featured Product from Cincinnati Sub-Zero Products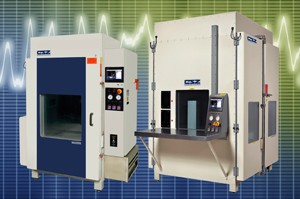 HALT and HASS Pushes the Boundaries to Make Products More Reliable
No manufacturer wants the customer to be the first to discover any weaknesses in its products. Nevertheless, the siren song of cost reduction often lures companies into performing only minimal compliance-type product testing, even though years of evidence show that almost every problem identified in accelerated life testing could eventually appear in the field. Highly Accelerated Life Test (HALT) and Highly Accelerated Stress Screening (HASS) uncover product weaknesses so effectively that manufacturers often consider them a major competitive advantage and don't divulge that they perform HALT/HASS testing or share with the market what they have learned.
Compliance testing is wholly different than accelerated life and stress testing provided by HALT and HASS. Compliance tests demonstrate only sufficiency rather than finding and fixing problems, and as they subject a product to only one stress type at a time, product failure modes and design weaknesses can take months to discover, if they are found at all. HALT and HASS can reduce this process to hours or days.
In addition, the "real world" typically exposes products to all or many stresses at once rather than one at a time, so while one design fault may appear very quickly from vibration testing, another might reveal itself much later from temperature cycling. In short, compliance testing cannot always simulate "real-world" environments or achieve the benefits of the accelerated "test-to-failure" approach of HALT and HASS.
Not surprisingly, HALT and HASS have long been used in electronics, automotive, aerospace, defense, and space markets in which there is zero tolerance for failure. That said, they are also equally well-suited for virtually any type of mechanical, electromechanical, or electronic component or system. For these benefits, the engineering world owes a debt of gratitude to Dr. Gregg Hobbs, who spent nearly his entire career championing accelerated stress testing and almost single-handedly developed HALT and HASS.
The best HALT and HASS feedback is always going to be provided by the best HALT and HASS test chambers. Cincinnati Sub-Zero manufactures efficient and effective HALT and HASS testing chambers, leading to a quick return-on-investment.