Industrial Ethernet 2000 Series Switches by Cisco®
Product Announcement from Cisco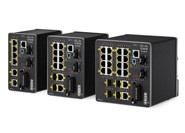 Cisco Industrial Ethernet 2000 (IE 2000) Series Switches extend the proven Cisco Catalyst technologies prevalent in enterprise networks to industrial networks thereby extending superior security, video, and voice services from enterprise to industrial applications. They are also ruggedized, easy-to-manage, resilient, and enhanced through industry-specific protocols.
Feature and Capabilities
Cisco Industrial Ethernet 2000 Series Switches are fixed platforms that deliver Layer 2 switching with proven Cisco IOS software. The switches:
Permit or deny network connectivity based on the identity of device with support for IEEE 802.1X
Help secure administrator traffic with encryption through SSH
Protect against "man-in-the-middle" attacks (unauthorized message interception) with DHCP snooping
Prevent faulty end devices from compromising overall system performance with Storm Control
Help enable transparent integration with support for industry-specific protocols including IEEE 1588, CIP, and PROFINET
Cisco IE 2000 Series Switches simplify management with Cisco Network Assistant, and support multiple protocols for easy integration with third party management solutions. They also offer resilience and fast network recovery with Flex Links, and fast convergence with Cisco Resilient Ethernet Protocol (REP).
See how Cisco IE 2000 Series Switches help you build advanced industrial networks. (2:29 min)
---