Barrel Hardware Clamps
Product Announcement from Clampco Products, Inc.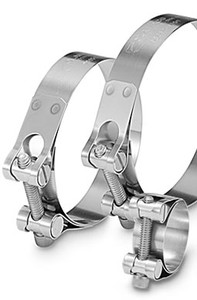 Zinc Plated & Stainless Steel Barrels
Clampco offers Barrel Hardware Clamps as yet another fastening solution. When space constraints prohibit the use of standard T-Bolt Band Clamps, Barrel Hardware Clamps offer an attractive, low-profile design. With excellent product performance and attractive appearance, Barrel Hardware Clamps are popular components on appearance-driven products such as motorcycle exhaust systems and high-performance race cars. All stainless steel versions can be electro-polished for improved cosmetics.
Because of their design, Barrel Hardware Clamps ease certain installations. For example, as a Barrel Hardware Clamp is tightened, the end of the socket head cap screw moves away, rather than towards, the operator. This feature improves safety by minimizing parts that protrude after installation, and deep socket installation tools are not required.Clampco Barrel Hardware Clamps are available in diameters as small as 1.50 in., perfect for tight, hard-to-access spaces. Standard materials for the clamps include 300 series stainless steel bands, zinc plated or stainless steel barrel trunnions and nuts, and stainless steel socket head cap screws.
Clampco Customizes
Clampco can also make custom Barrel Hardware Clamps. Some of their custom designs have included metric hardware, heavy-duty hardware, socket head cap screws, hex head bolts, different bandwidths, different band and hardware materials, and even quick-release styles. This picture shows a clamp with a barrel nut, regular stamped trunnion, and a socket head cap screw.
>> Click Here to Contact Clampco today!
---