Exhaust Clamps to meet Federal EPA's Diesel Rules
Product Announcement from Clampco Products, Inc.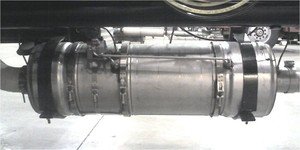 The right exhaust clamps are an important factor in meeting the federal EPA's new diesel particulate filter rules.

With rules in place requiring fewer emissions from new diesel engines by 2007, the EPA also is focusing on cleaning up the emissions of existing diesel engines, which in many cases requires retrofits and the installation of diesel particulate filters.

These filters are available in several types, including:
Wall-flow ceramic cordierite
Woven fiber cartridges
Temperature resistant paper (disposable)

Properly fitting exhaust clamps are crucial to the success of the particulate filters, which can also be installed as original equipment.

The EPA estimates that diesel particulate filters may reduce particulate matter in exhaust streams by more than 90 percent. But poorly fitting exhaust clamps can allow particulate to leak through, dampening the filters' effectiveness.

Contact us now to take advantage of our expertise in exhaust clamps.
Clampco manufactures V-Band Clamps specifically engineered for Diesel Particulate Filtration applications.
Clampco works with our customers' development engineers to design a clamp specific to their OEM or Retrofit application. DPF Emission applications require clamps that perform under high heat and corrosion environments, while offering high load and sealing capabilities. Clampco offers value in support of all prototype and trial build events thru mass production. Clampco's in-house prototyping and short run capabilities ensure fast delivery of development parts. In early development stages of the project, Clampco works with our customers to identify cost drivers and then works to reduce costs by offering alternate materials, components or design ideas.
---