Military MS21920 Clamps
Product Announcement from Clampco Products, Inc.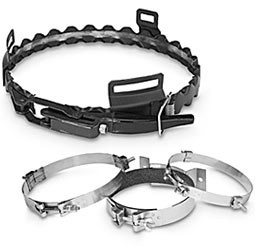 Clampco T-Bolt Band Clamps
Military MS21920 Clamps
Government Approved
Clampco Products is one of the few manufacturing companies in the clamp industry to qualify as a U.S. Government vendor. Clampco has been supplying the U.S. Government directly and through qualified distributors since 1982 and is listed on the Qualified Parts List (QPL) for MS21920 Clamps. Because we maintain outstanding quality standards in the design and manufacture of all of our products, we easily adhere to the rigorous demands of U.S. Government product specifications and procurement regulations. In addition to supplying MS21920 Clamps and hundreds of other NSN (National Stock Number) clamps, Clampco also designs and manufactures custom clamps using high-temperature, aerospace grade materials, and can supply special painting and packaging. Contact us to learn more about our military clamp manufacturing capabilities.
We Customize
Customized military clamps often require special clips, support lugs, welded support lugs, and brackets for special needs such as mounting to duct work, mounting canisters to walls and other supporting structures. These and other requests for customization offer designers and technicians installation flexibility.

>> Click Here to Contact Clampco today!
Measure the O.D. of your final hose assembly. Select the Military MS21920 T-Bolt Band Clamp with the closest nominal diameter.
>> Click Here for How to Determine Nominal Size for your Hose Clamp Application.
---