Standard & Made-to-Order Clamps & Couplings
Product Announcement from Clampco Products, Inc.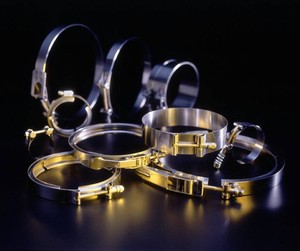 Clampco manufactures high quality clamping products including T-Bolt Band Clamps, Barrel Hardware Clamps, Worm Gear Hose Clamps, V-Band Clamps/Couplings, and Straps & Strap Assemblies. Their T-Bolt Band Clamps and V-Band Clamps/Couplings can be purchased as standard items or made-to-order for your specific application. We offer Custom Design Products tailored to your exact specifications, and we have a wide range of Latches, Fasteners & Handles to further customize their products. Click on an item below to learn more or contact them for more information.


T-Bolt Band Clamps
Turn to Clampco for premium T-Bolt Band Clamps available in a wide variety of configurations to meet your demanding fastening requirements. Whether you need strength, flexibility, quick adjustment, reliability or customization, Clampco's comprehensive line of T-Bolt Band Clamps can provide a clamping solution for you.
Clampco offers their most popular T-Bolt Band Clamps as standard items, so they are ready to ship when you need them. Choose between zinc plated hardware and stainless steel hardware in standard, channel tongue, and floating bridge designs.
It's never been easier to order high quality T-Bold Band Clamps that meet your exact specifications. Clampco's step-by-step system walks you through the process of determining the right clamp for your application.
When you need a clamp that will maintain steady band tension under fluctuating conditions, choose Clampco Spring Loaded Clamps. Their engineering experience and quality manufacturing mean Clampco Spring Loaded Clamps will perform for you.
When corrosion from water, including saltwater, is a concern, you can trust Clampco Marine Grade Clamps to outperform the competition. They combine their advanced engineering with high grade materials to provide T-Bolt Clamps that work well in marine applications.
Clampco's outstanding quality standards meet and exceed the rigorous demands of U.S. Government product specifications and procurement regulations. They manufacture MS21920 Clamps and hundreds of other NSN (National Stock Number) clamps as well as custom clamps using high-temperature, aerospace grade materials, and can supply special painting and packaging.

Barrel Hardware Clamps
Because of their design, Barrel Hardware Clamps ease certain installations. For example, as a Barrel Hardware Clamp is tightened, the end of the socket head cap screw moves away, rather than towards, the operator. This feature improves safety by minimizing parts that protrude after installation, and deep socket installation tools are not required.
Clampco Barrel Hardware Clamps are available in diameters as small as 1.50 in., perfect for tight, hard-to-access spaces. Standard materials for the clamps include 300 series stainless steel bands, zinc plated or stainless steel barrel trunnions and nuts, and stainless steel socket head cap screws.

Worm Gear Clamps
Standard and Custom
Clampco manufactures two series of Worm Gear Clamps — a standard series with a .50 in. wide band and a micro series with a .312 in. wide band. Their Worm Gear Clamps are available in SAE sizes.
Clampco can also manufacture V-Band Couplings with Worm Gear Clamps as the outer bands. This style is commonly used on dairy processing equipment, irrigation systems, and agricultural equipment.

V-Band Clamps/Couplings
Made-to-Order

Straps & Strap Assemblies
Made-to-Order
Clampco stainless steel strap assemblies are frequently specified for both commercial and military applications. The metal straps are used to tie down or secure equipment to walls, decks, and interior and exterior vehicle surfaces.
Lengths range from 2.25 in. up to the customer's desired length. For certain applications, strap assemblies may be joined together to arrive at the required length. Customers specify latch styles, material gauge, band width, and hardware.
Clampco Custom Design Products
Clampco offers a wide variety of custom design features to suit your specific application.

Latches, Fasteners & Handles
Latches
Several latch designs are available for light-duty applications. The latches pictured at right show just some of the custom options. For example, latch designs can include metric hardware, socket head cap screws, special square nuts, and more. Contact Clampco to discuss your custom latch requirements.
Knobs
Clampco offers different knobs for custom requirements. The knobs shown at right are specified when operators need to open and close clamps by hand. The plastic knobs are recommended for light-duty applications and should not be exposed to high temperatures. They are commonly requested for applications on water filtration canisters and other applications where frequent maintenance is required.
The knurled knob is 300 series stainless steel and is a high-quality option for sanitary applications. The knurled knob is a popular choice for clamp applications on food and chemical processing and transportation equipment.
T-Handles
A Clampco T-handle is another custom option for clamp applications that require hand tightening. T-handles come standard in 3 in. lengths and are steel cadmium or zinc plated. Stainless steel designs are also available. T-handles are commonly specified for clamp applications on pool filters and telecommunications equipment.
---