V-Band Clamps for Diesel Filtration Applications
Product Announcement from Clampco Products, Inc.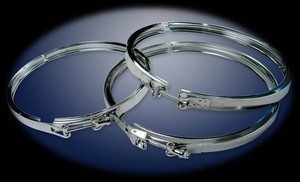 Clampco manufactures V-Band Clamps specifically engineered for Diesel Particulate Filtration applications.
Clampco works with our customers' development engineers to design a clamp specific to their OEM or Retrofit application. DPF Emission applications require clamps that perform under high heat and corrosion environments, while offering high load and sealing capabilities. Clampco offers value in support of all prototype and trial build events thru mass production. Clampco's in-house prototyping and short run capabilities ensure fast delivery of development parts. In early development stages of the project, Clampco works with our customers to identify cost drivers and then works to reduce costs by offering alternate materials, components or design ideas.
---