CBND steam-ready series
Featured Product from Cleaver-Brooks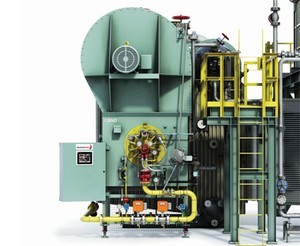 The Cleaver-Brooks Nebraska CBND steam-ready series is a completely integrated boiler system including the watertube boiler, state-of-the-art burner, heat recovery economizer, and advanced controls.
The CBND is designed and engineered into a single boiler package, from the air inlet to the stack outlet and the feedwater inlet to the steam nozzle outlet, along with everything you need to operate the boiler.
The important layout and configuration drawings are available with a quote, while a complete set of drawings are available soon after your order. The upfront engineering offers an engineered boiler package that cuts weeks off of standard delivery. With a drawing available quicker, you not only get a faster delivery from Cleaver-Brooks, but you're also able to plan and manage your work faster.
Saturated steam
10,000 to 225,000 lb/hr
Natural gas and #2 oil
100 to 375 psig
Available to < 9 ppm NOx