Case Study: CBEX Elite Boilers Reduce Costs
Featured Product from Cleaver-Brooks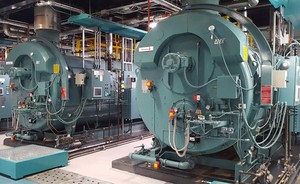 Chinook Regional Hospital Installs CBEX Elite Boilers, Reduces Costs and Achieves Low-NOx Benefits
Case Study
Company:Chinook Regional Hospital
Location:

Lethbridge, Alberta, Canada

Profile:

Change boiler plant classification to Class 3 and achieve 30 ppm NOx emissions.

Challenge:

For a Class 3 building, total heating surface had to be reduced below 5000 KW rating.

Solution:

Three 400-HP Cleaver-Brooks CBEX Elite boilers with stack economizers.

Results:

Reduced fuel usage by 8% and electrical costs by 40%.
Chinook Regional Hospital is a 270-bed facility that serves as the main hospital for the city of Lethbridge and Southern Alberta, Canada. When the Lethbridge Regional Hospital (now Chinook Regional Hospital) opened in the mid-1980s, three 500-HP traditional Cleaver-Brooks steam boilers ran the facility. In 1999, the hospital wanted to restore boiler efficiency to its original level, so it replaced the boiler burners. Retrofitting was an option because the boiler pressure vessels were still in good shape and the correct size for the facility.
In 2016, Chinook Regional Hospital completed a new five-story wing to better serve the population in the growing Lethbridge community. In addition to expanding hospital capacity, the administration wanted to change its boiler plant classification from a Class 2 building to a Class 3 one to reduce its operating costs and environmental impact. To qualify as a Class 3 building, the total heating surface had to be reduced below the 5000 KW rating. Another goal was to achieve 30 ppm NOx emissions.
The hospital administration reached out to Aleksei Myroniuk at Tundra Process Solutions in Calgary to provide them with a recommendation for a new boiler solution. They had been very pleased with their existing Cleaver-Brooks boilers due to their reliability and durability to handle oil firing, so they desired to stick with the brand. The hospital said they wanted high efficiency, low emissions firetube boilers with advanced controls.
Myroniuk recommended three 400-HP Cleaver-Brooks CBEX Elite boilers with stack economizers. Not only did the boilers meet the hospital's criteria, but the units offered the added bonus of a small footprint.
"The ability to provide the same capacity as a traditional firetube boiler with a 15-20% reduction in footprint was key," said Myroniuk.
Each of the CBEX Elite boilers selected for the facility included a HAWK PLC control with parallel positioning, oxygen trim, variable speed drive combustion blower and an economizer. CBEX Elite boilers feature an advanced heat transfer designed to increase system efficiency and reduce operating costs.
When it came time to install the new boilers, adjustments had to be made to modify the location of the stack economizers. They were installed above the unit on a mezzanine walkway instead of coupled to the pressure vessel. Myroniuk explained that a custom spool piece was used for each unit to correctly ensure serviceability on the mezzanine.
Plant personnel noted that the wetback design was nice as it did not require rear clearance, enabling the units to be installed deeper into the boiler room. Chinook Regional Hospital Installs CBEX Elite Boilers, Reduces Costs and Achieves Low-NOx Benefits.
They really like the Hawk 4000 boiler overview screen that details combustion, temperature and pressure readings. They also enjoy the convenience of being able to see both steam flow and gas flow on the screen.
Other features of the Hawk 4000 that plant personnel appreciate include the simple identification of an alarm source with expanded annunciation feature, and a large amount of ModBus registries, making it easy to gather information.
Once programmed properly, the system is virtually hands-off to operate. When needed, there is easy manual operation.
Chinook Hospital estimates that its new boiler system has helped the facility reduce fuel usage by 8% and electrical costs by 40%. Additional benefits of the new system include: noise reduction, smooth transition of boiler plant operation with the lead/lag control, and equal run time of all units without operator intervention.
Download the full case study here: http://cleaverbrooks.com/docs/case-studies/pdf/CB-8588-ChinookRegionalHospital.pdf