ProFire®-E Burners Achieve 10:1 Turndown
Featured Product from Cleaver-Brooks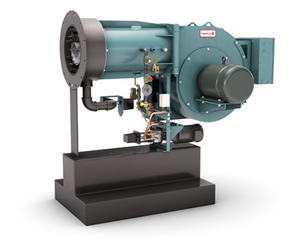 Cleaver-Brooks engineered the ProFire®-E series of burners to maximize efficiency and meet low NOx emissions requirements. Burners in the series achieve up to 10:1 turndown with natural gas, up to 8:1 turndown with light oil, and up to 8:1 turndown with the low NOx option on natural gas. ProFire-E series burners are available for firetube, firebox and watertube boilers from any manufacturer fueled by natural gas, propane gas, air atomized No. 2 oil or a combination gas-and-oil fuel option from 8.4 to 42.0 MMBTU per hour.
The ProFire-E series of burners feature a low-pressure-drop firing head design and low blower motor horsepower requirement for increased efficiency and reduced fuel and electrical costs. The burners were designed with a backward-curved aluminum impeller that avoids dust collection common to forward-curved blowers. This design feature helps burners in the series maintain their original balance.
Gas is introduced into the ProFire-E series through orifices in front of the diffuser that provide a superior mix of gas and air with excellent flame retention at all firing rates. In addition, the dual-blade configuration of the ProFire-E series offers precise control of combustion air flow throughout the firing range. The unique profile of the rotary-style damper characterizes air flow at low fire, which results in increased turndown capability.
Burners in the series use a parallel positioning system that eliminates the need for linkage and set-up time and ensures better control throughout the firing range. The ProFire-E line of burners also has innovative features such as swing-away air housing for easy access to the nozzle, scanner, pilot and diffuser for inspection or removal.
The low NOx burner in the ProFire-E series is capable of less than 30 ppm NOx emissions, and when fitted with Cleaver-Brooks NT technology, the burner is capable of single-digit NOx emissions levels.