Two-Stage Condensing Economizer 94% Efficiency
Featured Product from Cleaver-Brooks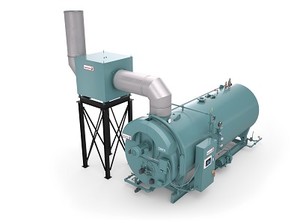 C2X-HE Economizer
New technology exclusive to Cleaver-Brooks enables the C2X-HE to be the first two-stage condensing economizer in the industry to achieve up to 94% efficiency. It is smaller and lighter than current two-stage economizer models and is ideal for high-percentage makeup water or process hot water applications.
Up to 94% efficiency
Available for 100 to 800 HP boilers
Lightweight with a small footprint
Firetube or flextube steam boiler applications
Can preheat large volumes of process hot water
Cleaver-Brooks engineered new technology with horizontal flow to achieve up to 94% efficiency in a two-stage condensing economizer. Competitive models use a different design and vertical flow, which requires a larger coil size and bypass.
The product's first stage returns wasted heat to the boiler feedwater. Its second-stage condensing section preheats make-up water or process water. These units deliver best-in-class overall system efficiency.
The C2X HE is ideal for applications with a 50 to 100% make-up water requirement. It is also ideal for process hot water applications such as food processing and industrial laundries.
Features:
Offset from the boiler on a dedicated stand
Up to 400 PSIG
First stage has 304 stainless steel tubes with aluminized steel fins
Second stage has 304 stainless steel tubes with aluminum steel-fins
Reduces fuel usage compared to traditional two-stage economizers
Easy installation and maintenance
Condenses on natural gas only
ASME U-Stamp certification
Solutions
Reduce fuel costs
Process hot water solutions
Applications
50 - 100% make up water requirement

Food processors
Industrial laundry facilities
Contact us for more details