ClearFire®-CE Condensing Boiler New Product Launch
Product Announcement from Cleaver-Brooks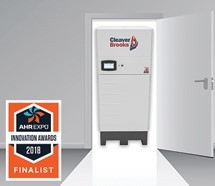 Cleaver-Brooks announces the launch of the ClearFire®-CE (CFC-E) condensing boiler that can achieve up to 99 percent efficiency due to its enhanced AluFer® firetube heat exchanger and dual temperature returns. When utilized, dual temperature returns increase condensing in a hot water boiler, raising efficiency by six percent or more compared to a traditional single-return design. The dual-return feature also offers system engineering flexibility for efficient integration into any building design.
Watch this introduction video to learn more:https://youtu.be/mTsnLVtuTXU
ClearFire®-CE
Fully Condensing
Fully condensing high-mass firetube boiler
Compact footprint
750 to 2,000 MBTU
Standard less than 20 ppm NOx
Variable flow capable with no minimum flow requirement
Standard dual-return connections
The ClearFire®-CE (CFC-E) is a compact, high-mass, fully condensing hydronic boiler, capable of variable-flow pumping, allowing for maximum operating efficiency in a variety of system applications.
The ClearFire®-CE (CFC-E) is a fully assembled, high-mass firetube condensing boiler with a large-water-volume pressure vessel. The high-mass design equates to a low pressure drop, reducing pumping energy with no minimum flow requirements.
The pressure vessel is also thermal shock proof, capable of high-delta-T system designs to maximize condensing and reduce flow rates. The highly effective fireside heating surface with industry leading AluFer® tubes leads to superior efficiencies in all operating conditions.
The modulating, premix burner control automatically adjusts the air/gas mixture for maximum burner efficiency. The linkageless burner provides 5:1 fully modulating turndown without the use of complex air/fuel mixing valves or mechanical devices.
The dual-return connections have the ability to increase condensing in the boiler and raise efficiencies by 6%+ more than a single-return boiler.
The ClearFire-CE provides the reliability and longevity that customers expect from Cleaver-Brooks. The CFC-E is designed to leverage the advantages of primary-variable-flow pumping systems with a small overall footprint, offering system flexibility and true operational efficiency without compromise.
Features:
True counterflow-arrangement heat exchanger for maximum heat transfer
High-mass design in a compact footprint, ideal for retrofit applications
Duplex stainless steel combustion chamber, tubes and tubesheet offer excellent corrosion resistance
Dual-temperature returns for additional energy savings potential
Falcon total boiler control with lead-lag capability up to 8 boilers
Quiet operation, <70 dBA sound level at 3 feet
Fresh-air inlet connection for direct-vent combustion air
Low waterside pressure drop for reduced pumping energy requirements
Hinged burner for easy access
Thermal shock resistant
cULus listed
Solutions:
Lower fuel costs
Improved boiler and system efficiency
Lower emissions
Redundancy
Improved system turndown
Reduced footprint

Applications:

Office Buildings
Medical Office Buildings
Process
Heating
Industrial Process
Contact us to learn more

---