Unmanned Systems Antennas
Featured Product from Cobham Antennas Systems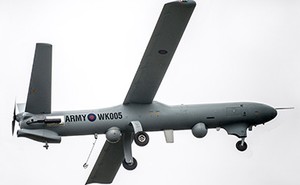 Unmanned Systems provide many operational functions including airborne surveillance, video transmission, border patrol and tactical systems. In all cases uninterrupted communication to the control centre is vital.
As the demand for Unmanned Systems increases, so does the need for a wider range of antennas for payloads, data communications systems, command and control.
Competing performance and cost criteria are an important consideration when selecting an antenna. We have a range of standard cost-effective, entry-level COTS antennas that are already used in extreme environments.
As frequencies increase from L-band to Ku-band to provide wider bandwidths to enable higher data rates, the selection of the right antenna is critical to ensure system performance, battery-life and transmission range.
High gain, collinear, vertically polarised omni antennas are installed in aerodynamic foil structure
Common Data Link Ku-band omni antennas have circular polarisation and up to 4dBiC gain
Spiral antennas for direction finding
Directional antennas for communication between airborne towed target and the towing aircraft
Radar cross-section enhancement and radar detection
Counter-drone antennas for reducing security threats
Pattern data is available for all antennas.
We also have a range of Control Station antennas available. In order to achieve optimum results we would need to provide antennas at both end of the Unmanned System link.