Refurbishing Services
Service Detail from Cocker-Weber Brush Company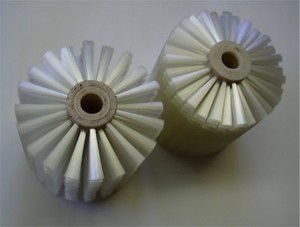 It is often economical to refill a brush with new tufts when the base of the brush is in good and reusable condition. Refurbishing is particularly economical when the brush base is an expensive component of the brush.
Cocker-Weber has been producing high quality American made brushes for over 100 years. We design, develop and manufacture staple set, epoxy set and drawn-in-wire tufted brushes. We have designed and built many unique brushing tools to solve industrial problems. Our design lab can partner with you to develop, enhance or repair design problems that impact productivity and profit margins.
Cocker-Weber brushes are used by many industries worldwide. We are a source for many OEM brushes. We produce small lots as well as large production runs. We engineer special designs in tufted technical brushes cost efficiently.
Refurbishing brushes is an ecologically sound practice. Reusing cores and bases saves materials, saves energy and saves you money. Cocker-Weber is your source for refurbishing brushes.
---