DataMan 503 series
Product Announcement from Cognex Corporation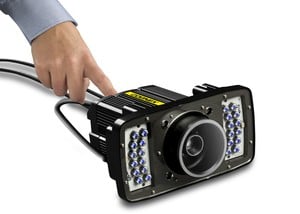 With the highest read rates in the industry, performance feedback, and no moving parts, the DataMan 503 is suited for the most challenging barcode reading applications and will change the industry's perception of what can be accomplished with a barcode reader
Features include:
Proprietary Hotbars™ image-analysis technology, which provides the highest read rates of 1-D linear barcodes including those that are damaged, distorted, blurred, scratched, low height, or low contrast.
The ability to analyze no reads for process improvement by providing the ability to see what the reader sees either live on a monitor or by using image archiving with automatic FTP image transfer.
No moving parts that need replacing or can wear out.
Cognex Connect™ communications suite supports industrial protocols, including high-speed Ethernet for easy integration into the network.
A variety of barcode reader accessories that enable the readers to be customized for each application for optimal performance.
For applications requiring high-resolution or high-speed, the DataMan 503 is a high performance barcode scanner providing exceptional read rates.
Typical applications:
• High-speed sortation
• High-speed material handling
• Multi-sided sortation
• 5-6 sided sortation (scan tunnels)
• Pallet scanning

Play DataMan 503 series Video
---