New Edge Inspection Tools In-Sight Explorer 4.4
Product Announcement from Cognex Corporation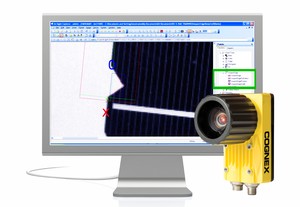 Cognex Corporation (NASDAQ: CGNX) today announced In-Sight® Explorer 4.4, a new software release for its In-Sight vision systems. In-Sight Explorer 4.4 adds new color tools, improved calibration and expanded data access within its EasyBuilder® configuration software, and expands support for larger line scan images. The new software also introduces InspectEdge™, a powerful and easy-to-use new family of tools for detecting edge defects and inspecting edge pairs.
"In-Sight Explorer 4.4 makes Cognex In-Sight systems more powerful, flexible, and easy to use than ever," said Bhaskar Banerjee, Business Unit Manager for Vision Systems. "The addition of the InspectEdge tool family will enable many new applications that could not be performed reliably with existing edge detection tools."
In-Sight Explorer 4.4 software also includes:
· New color tools in EasyBuilder that simplify the process of color training. Trained colors can now be shared among multiple tools, and new application-
specific color tools make the task of solving color applications easy and flexible.
· More powerful distortion correction for line-scan cameras, and support of up to 8192 lines for large part imaging.
· Improved 32 point calibration in the In-Sight spreadsheet and more calibration options within EasyBuilder with easier access to pattern, blob, and edge data.
· A position timing feature for scheduling programmed and job complete discrete outputs.
---