ON-LINE TOOL TO CALCULATE COST SAVINGS
Product Announcement from Cognex Corporation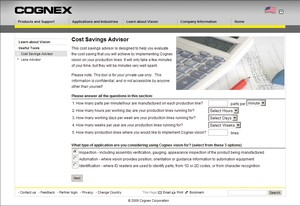 COGNEX DEVELOPS AN ON-LINE TOOL TO CALCULATE COST SAVINGS FROM USING VISION TECHNOLOGY
Helping manufacturers evaluate how much savings can be achieved by investing in vision
Cognex® Corporation (NASDAQ - CGNX), the world's leading supplier of machine vision systems and industrial ID readers, today announced the availability of a new on-line tool to help manufacturers understand the benefits that can be achieved through the use of machine vision and industrial identification. "In these difficult economic times, optimizing product quality and reducing manufacturing costs is more important than ever. Our new Cost Savings Advisor makes it really easy for manufacturers to calculate the cost reductions they can achieve through using Cognex vision and ID systems" says Peter Neve, Vice President of Global Marketing for Cognex. He added, "It also acts as a great check list to ensure that all potential savings from using vision are identified." The Cognex Cost Savings Advisor was designed to help customers evaluate a cost savings plan for vision inspection, automation or identification applications.
The free tool can be found at www.cognex.com/costsavings. Users are asked a few simple questions about each vision application. The tool then calculates the potential cost savings that could be achieved by implementing Cognex solutions on the customer's production lines. Additionally, the results highlight other potential benefits that customers may not have previously considered. A wide range of cost savings opportunities can be estimated within three main sections: product inspection applications, automation guidance applications and identification/traceability applications. Once the results are calculated, a record of the evaluation can be printed to share with colleagues. Cost management is a global concern; Cognex, as a global corporation, recognizes this and is pleased to offer this tool in nine languages: Chinese (Simplified and Traditional), English, French, German, Italian, Japanese, Korean and Spanish.
For more information, please visit www.cognex.com/costsavings.
About Cognex
Cognex Corporation designs, develops, manufactures, and markets machine vision sensors and systems, or devices that can "see." Cognex vision sensors are used in factories around the world to automate the manufacture of a wide range of items and to assure their quality. Cognex is the world's leader in the machine vision industry, having shipped more than 450,000 machine vision systems, representing over $2.5 billion in cumulative revenue, since the company's founding in 1981. In addition to its corporate headquarters in Natick, Massachusetts, Cognex also has regional offices and distributors located throughout North America, Japan, Europe, Asia, and Latin America. Visit Cognex on-line at http://www.cognex.com/.
---