Advantages of Powder Coating
Service Detail from Coiling Technologies, Inc.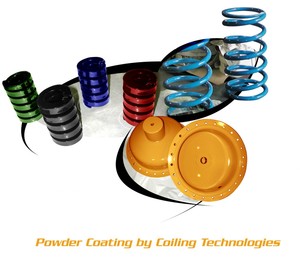 Advantages of Powder Coating
Protective and Decorative finish
Limitless range of colors and textures available which enhance the look and feel of the spring
The ability to apply much thicker coatings than liquid solutions and they produce almost no volatile organic compounds (VOC)
Improves performance properties
Applying Powder Coating
Our manufacturing equipment is outfitted with a two-staged washer, which applies an iron phosphate base coat then rinse cycle to all coated items. Any piece within a size-range of 36″ H x 24″ W x 60″ L can be coated. Our adjustable speed conveyor has 175 hangers on 16 inch centers, and the two-stage 410+ degree oven can handle both the drying and curing cycle.
About Us
Coiling Technologies, Inc. was founded in 1976 as a fast turnaround, short-run spring manufacturing company. However, through the years Coiling Technologies has evolved to meet a variety of industry-specific needs. CTI is ISO certified and continually audited. We strive to improve the quality and service our customers should expect from a spring manufacturer. Our products are analyzed both prior to production, and during, to ensure that we are meeting or exceeding your specifications.
Our Three Main Objectives:
Better: Coiling Technologies key objective is to deliver best quality of spring that meet or exceed your current product specifications. We are better than our competition and we will repeat ourselves each and every time.
Faster: Our lead times are consistently better than our industry counterparts due to our ability to manage our workforce and maintain our customer requirements.
More Economical: Better manufacturing methods mean shorter production times. Improved consistency by higher levels of technology means fewer mistakes and less waste. Combining this means we can be very competitive when it comes to pricing. We have built an excellent foundation, through our methods savings, to offer you a lower cost now and for years to come.
Take some time to check us out. If you need any questions answered, please call us and we would be happy to provide you with whatever information you might require.