Copper alloys have sufficient strength & ductility
Featured Product from Coiling Technologies, Inc.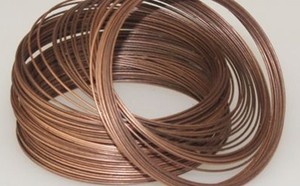 Copper alloys have sufficient strength, ductility, and hardness which makes them best suited for springs operate in relay contacts and switch gears.
Some of the key properties are given below:
Strength, at operating temperatures.
Good wear or deformation resistance.
Fatigue strength, especially for springs.
Dimensional tolerances that meet the needs of advanced technology.
Beryllium Copper Springs
When considering a spring for a corrosive environment, Beryllium Copper (BeCu) is an ideal choice for a spring alloy. Beryllium Coppers are also known as spring copper which has the best combination of electrical conductivity, corrosion resistance, and mechanical strength necessary for numerous electronic and electro-mechanical devices.
Phosphor Bronze Springs
Coiling Technologies manufactures phosphor bronze springs, including phosphor bronze compression springs for many applications. Phosphor Bronzes contains copper, tin and phosphorous. The addition of tin increases the corrosion resistance and strength of the alloy. The phosphorous increases the wear resistance and stiffness of the alloy. Leaded phosphor bronzes combine good strength and fatigue resistance with good machinability.