Modular Programmable Delay with Diode Switching
Product Announcement from Colby Instruments, Inc.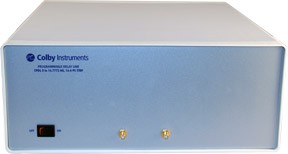 Our newest innovation, the PDM-100A is built on all solid-state technology, making it possible to change the delay more quickly than in any other model: up to 500 times a second. With its programmable interface, the PDM-100A ensures repeatability, accuracy and performance superior to any manual phase shifter or delay line generator on the market.
The PDM-100A is our modular instrument utilizing PIN diode switching technology to offer electrical delay from 0 to 10.23 ns with a step resolution to 1 ps.
The PDM-100A offers excellent performance for signal input range from 100 Mhz to 3.0 GHz. With three available modules. Interfaces supported include Ethernet TCP/IP LAN, GPIB (IEEE488.2), and RS-232 Serial.
---