PIN Diode Modules Programmable Delay Phase Shift
Product Announcement from Colby Instruments, Inc.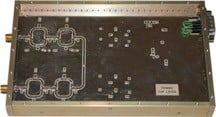 PIN Diode Modules offer programmable delay (phase shift) to 1 ps resolution and 5.12 ns total range. Combine three modules (P1-PDM, P2-PDM, and P3-PDM) for a total range to 5.12 nanoseconds. TTL/CMOS level interface.
Each module requires +12V and +5V power.
P1-PDM for precision (1 ps to 15 ps total delay; 4 steps of delay)
P2-PDM for versatility (5 ps step to 1.275 ns total delay; 8 steps of delay)
P3-PDM for range (1.28 ns step to 2.56 ns total delay; 2 steps of delay)
---