Precision Programmable Delay Line Instrument-OEM
Product Announcement from Colby Instruments, Inc.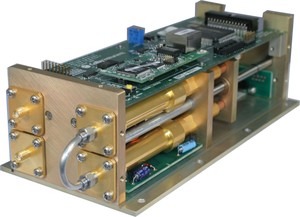 The Model PDL-100A is the Electro-Mechanical Trombone Delay Line only for OEM applications. Total delay range is 0 to 625 picoseconds (ps) of delay with a step resolution to 0.50 ps. The basic architecture of the Model PDL-1A incorporates two equal length Mechanical Trombone delay line structures which are folded to fit into a compact mechanical size. It uses quarter-inch semi-rigid coaxial cables to minimize losses. The most critical design centers around low-friction interfaces of the moving parts of the trombone structure to achieve a long lifetime of operation. The patented design has an outstanding proven operational lifetime of 500,000 operations, and an absolute accuracy of 0.1%, ± 0.2 ps. A highly efficient stepper motor design with a precision lead screw assembly allows accurate positioning in 0.25 ps steps for each half structure.
The Trombone Unit only is used primarily for OEM applications. The unit comes with GPIB (IEEE488.2), Ethernet TCP/IP and RS-232 Serial interface.
Power requirements are +28 V (1.0A DC), and +5 V (0.2A DC).
Weight: 3.5 Lbs.
---