Broaching Machines
Product Announcement from Colonial Tool Group Inc.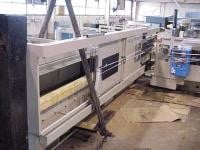 Colonial Tool Group carries on a tradition of respected machine & tool design and build capability that began in the late 1920s. Today our know-how and experience has broadened substantially, but our core business still remains in the precision manufacture of machine tools.
We have developed a complete line of broaching machines that include single and dual slide pull-down, and table-up, as well as standard surface broaching.
Let Colonial Tool estimate your requirements. Send us your part prints and allow our engineers to assist in your part processing for the most logical method of operation to maximize up time and reduce head aches. We can design to a dedicated operation or accommodate a general field of similar parts. Quick-change broaching set ups reduce your change over down time. In-field service engineers are available for quick response on any manufacturing machines.
We will work with you through out the life of your contract improving on fixtures, tools, etc., to continuously improve your competitiveness with the latest industry technology. We anticipate providing your company with all its broaching needs. Colonial Tool Group is not just interested in selling a broaching system; we will be your partner. As we help you grow, we also grow. With 80 years in the broaching business we probably have seen your parts and know the pitfalls. Colonial Tool Group also owns all the engineering for Lapointe broaching machines that were manufactured in North America prior to 1984. See us for replacement parts / manuals / hydraulic drawing / electrical drawings / general assembly drawings.
---