Helical Broaches
Product Announcement from Colonial Tool Group Inc.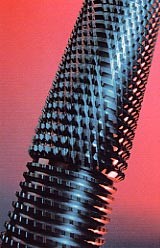 Broaching Made Easy
Colonial is a full CNC manufacturer with the capacity to design, manufacture and inspect broaches with a diameter of 11.5" and an overall length of 105". We are eqipped with our own in-house engineers, heat-treat and inspection department. This allows us to maintain complete control over the quality and delivery of our products.
Colonial's option of spiral gullet teeth results in superior part finish by creating less vibration and in turn longer tool life.
Prototype testing of tools and applications available.
Standard delivery of 8 weeks. Expedited delivery of 2-3 weeks available with an overtime surcharge
---