Spindles
Product Announcement from Colonial Tool Group Inc.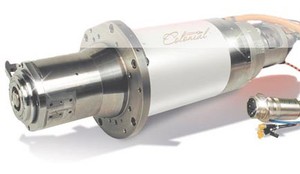 Colonial Tool Group's spindle trademark is : R A S It stands for: Rigidity-At-Speed and it means exactly that.
They engineer each and every spindle to achieve the maximum possible rigidity while meeting or exceeding speed capability required for the application. Wherever you will see a spindle carrying a RAS tag, rest assured that you get the absolute best performance in quality and reliability.
Since 1921, Colonial has produced hundreds of thousands of spindles. Manufacturing excellence combined with total capability, including metallurgical expertise with in-house heat treatment, enabling application-specific materials use and treatments. Ultra-precise tolerances are routinely held, using state-of-the-art inspection equipment.
Over 85 years of spindle manufacturing keeps RAS in the forefront of spindle technology. Engineered solutions, optimized for all performance elements, coupled with customized proprietary designs, ensure "World Class" results.
With over 330000 spindles built, two manufacturing plants and customers in four continents, Colonial is capable and ready to handle any spindle project small or large.
---