LHV VersaBay® Fluorescent High Bay
Product Announcement from Columbia Lighting, Inc.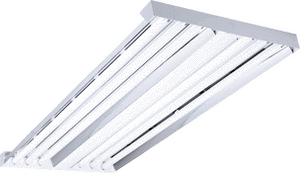 LHV - Versabay® Fluorescent High Bay
The increased use of fluorescent high bays in what was traditionally HID spaces has provided an excellent means to improve lighting in the space while providing significant energy savings. The use of fluorescent lighting with electronic ballasts in unconditioned spaces has created issues regarding the reliability of the electronic components. In unconditioned or partially conditioned spaces, the temperature at the ceiling level can reach over 130ºF, thus placing the reliability of the electronic components at risk. Heat contributors such as ambient heat, ballast heat, and lamp heat can all combine to elevate the ballast above the manufacturers' maximum ballast can temperature of 90ºC. This increase in ballast operating temperature will shorten ballast life and increase maintenance.
Columbia Lighting's VersaBay® high bay was developed to address the issues of elevated temperature by creating a systems approach to properly dissipate and control the heat-producing elements; thus providing a system of long maintenance-free operation. The VersaBay® high bay, protected by ATM-Advanced Thermal Management-employs a systems approach to resolving this potential issue.
LHV FEATURES
Optical design to provide one-for-one replacement for 400 watt metal halide high bays
Advanced Thermal Management (ATM) provides optimized electrical component heat dissipation system for cool running ballast operation in unconditioned ambient spaces, your choice of T8 or T5HO -suspension mounting only
LHV includes industry leading 5-year warranty at 65ºC ambient operation for T5HO, and 5-year warranty for T8 at 55ºC for 277V and 50ºC for 120V
Easy center-ballast cover allows tool-less access to electrical components without the removal of lamps, reflectors, or hardware
Extremely low profile - only 2" overall height allows fixture to be installed without concern about obstructions
Available in 4-, 6-, or 8-lamp configuration, T8 or T5HO
Reflector options include uplight (recommended) or solid top with either narrow or wide distribution
Product design accommodates quick and simple hanging systems including chain, tong, or aircraft mounting
Rotary locking lamp holders secure lamp in position and conceal contacts
Access cover in channel for easy wiring access
Easy to install "plug and play" occupancy sensor and cord and plug accessories make installation simple to any standard LHV fixture
UL listed 1598, cUL or CSA. Damp Location standard
---