Miniature Charge Amplifier w/10:1 gain Adjustment
Product Announcement from Columbia Research Labs, Inc.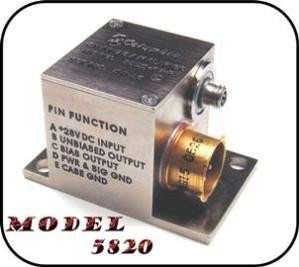 The Columbia Series 5820 Charge Amplifiers are designed for use with virtually all piezoelectric transducers to form various airborne vibration and shock data acquisition systems. These devices feature a very small package size and extremely low power consumption.
The Series 5820 Charge Amplifiers provide dual signal outputs, one biased around +2.50VDC and one unbiased capacitance coupled, and are available in seven standard chare conversion ranges, each offering a 10:1 tandem gain adjustment capability. A range of seven low-pass filters are available to meet your individual vibration measurement needs.
Biased or Unbiased Signal Outputs
10:1, 20-Turn Gain Adjustment Potentiometer
Choide or Buuterworth Low Pass Filter
Ultra Miniature Electric Package
Specifications
Output Impedance Biased: 100Ω Max., Direct Coupled, Unbiased: 100Ω Maimum, 22uF Coupling Capacitor, 20K Internal Load
Overload Recovery 5000pcmb 1mS Half-Sine, No Effect
Input Connection Single Ended, Referenced to Circuit Board
Input Resistance 25Ω Min
Input Source Capacitance 10000pF Max. to meet all specifications
Output DC Bias +2.500 +0.075VDC @ Biased Output, 0.000+0.050/-0.000VDC @ Unbiased Output
Come visit Columbia Research Labs at www.crlsensors.com to view the entire CRL sensor line, or send a request to sales@crlsensors.com Our sales and engineering staff will be happy to help find an sensor that best fits your needs.
---