Self Temperature Compensating Strain Sensors
Product Announcement from Columbia Research Labs, Inc.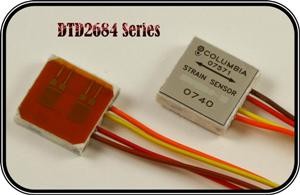 The COLUMBIA Fatigue-Monitor Strain Sensor may be bonded to critical airframe surfaces using conventional strain-gage bonding techniques. The unique construction and small size of the 2684 Series permits easy application with a new and higher level of accuracy and mechanical integrity. The four, #26 AWG, Teflon-insulated lead wires eliminate the tedious and difficult termination methods required with conventional strain gage installations. A final coating of flexible, waterproofing material provides additional environmental and mechanical protection.
In aircraft applications, the use of direct strain measurement, in place of the counting accelerometer methods commonly in use for fatigue load monitoring, provide a more accurate representation of the fatigue loading experienced by tactical aircraft under various conditions of speed, weight, and mission configuration. Critical areas, such as under carriage structures and control surfaces may be more accurately monitored for potential fatigue damage induced by high-g maneuvers and high stress landings.
These rugged, easily installed sensors open up new areas of opportunity for monitoring critical structures in commercial aircraft as well as high-performance military tactical aircraft. By combining the strain sensors with level sensing and recording systems, a stress-related history can be maintained for structures or assemblies which may be subject to damage or abuse during maintenance and overhaul operations, as well as monitoring the stress loading encountered in normal flight operations. The use of stress histories in conjunction with established S-N (fatigue life) curves for commonly used materials will allow the development of safer, more cost-effective maintenance and overhaul programs thru the application of end of useful life predictions.
Although the COLUMBIA 2684 Series of Strain Sensors have been developed for the demanding requirements associated with tactical military aircraft, they are equally useful for performing many of the more common strain measurements encountered in the materials testing laboratory. It is, in fact, the out-standing simplicity, reliability, and ruggedness of these sensors that makes them suitable for routine laboratory use. The higher output levels associated with the two-active arm configuration provides a more sensitive device yielding higher installed accuracy. The built-in dummy gages provide optimum temperature compensation for zero shift stability. The complete, full bridge strain sensor needs only the most basic signal conditioning equipment to provide accurate, reliable data for any temperature-compensated strain measurement requirement.
Visit www.crlsensors.com to view the entire CRL sensor line, or send a request to sales@crlsensors.com
Our sales and engineering staff will be happy to help find a sensor that best fits your needs.
---