Manufacture continues to provide premium sensors.
Product Announcement from Columbia Research Labs, Inc.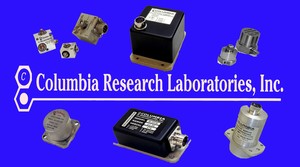 Columbia Research Labs (CRL), has been providing high quality and reasonably priced single axis, biaxial and triaxial accelerometers since 1953. Our highly qualified team of engineering and manufacturing personnel, many with 20 plus years of service, uses both Piezoelectric and Force Balance technologies to meet the wide variety of our customers needs over the aerospace, military, commercial and industrial markets. CRL is a small woman owned company located just minutes from Philadelphia Int'l airport in a 20,000 square foot facility which provides for 98% of CRLs production processes. CRL is currently an AS-9100 and ISO 9001:2000 with design certified company.
Come visit Columbia Research Labs at www.crlsensors.com to view the entire CRL sensor line, or send a request to sales@crlsensors.com Our sales and engineering staff will be happy to help find an accelerometer that best fits your needs.
High amplitude shock and vibration
Extremely high shock levels to 100,000 g
Very wide frequency response
Temperature range from extremely low, standard and extremely high
Small size/ light weight
4-20mA Output configuration
Stud or adhesive mount
Case grounded or electrically isolated
Hermetically sealed.
Force Balance Accelerometers for Measurement while drilling
Measurement of DC and low frequency acceleration
Force Balance Accelerometers in seismic and low level low frequency studies
Demanding missile and airborne application
Miniature airborne sensors
Operational to 125°C, high temp model up to 200°C
Fluid rotor concept of sensing angular acceleration.
Survive severe mechanical environments without degradation of unit performance.
Other products from Columbia Reserach Labs
---