Sensors to Measure Gas-Borne Sound; CRL 765 Series
Product Announcement from Columbia Research Labs, Inc.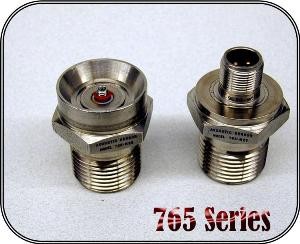 COLUMBIA's Models 765M25 and 765M27 are High Intensity Acoustic Sensors (Microphones) designed for measurement of gas-borne sound in frequency range of 100Hz to 30KHz, in industrial applications requiring operation up to +500 degrees F. These devices are constructed for use in corrosive environments, which are compatible with 316 stainless steel diaphragm. The all welded construction combined with the isolated hermetic, miniature,10-32 connector (Model 765M25) or the 2 pin stainless steel, hermetic connector (Model765M27) provides a true hermetic seal. Electrically the Models 765M25 & 765M27 comprises sensing elements of piezoceramic material in a balanced and floating configuration to provide enhanced rejection of electrical noise associated with many industrial environments. Optimum performance is achieved when used with a true differential input amplifier.
Specifications: Models 765M25 & 765M27 Transfer/Electrical: Charge Sensitivity: 1200pC/ 1,000pcmb/psi min. Frequency Linearity: ±6dB 100Hz to 25KHz Avg. Temp Coeff. Of Sensitivity: 0.08%/ Deg. F (nominal) Transducer Capacitance: 6,300pF ±10% Insulation Resistance: 100MΩ min., 50VDC test Isolation Resistance: 100MΩ min., 50VDC test Dielectric Strength: 550Vms, 60Hz, Element to housing Environmental: Temp. Range: -23 Deg. C to +260 Deg. C Vibration Limit: 100g's, Max. (sine) Shock Limit: 1,000g's Max. 0.25mSec. Humidity: 0 to 100% Relative Electromagnetic Sensitivity: 0.005 psi (Equivalent / 100 Gauss) Physical: Configuration: Balanced Floating Compression Size: (Model 765M25) - 1.38" Hex. x 1.88" H (Model 765M27) - 1.38" Hex. x 2.1"H Weight: 7.0 oz. / 200 grams Material: Type 316 Stainless Steel (Body and Diaphragm) Electrical Interface: (Model 765M25) - Isolated 10-32 Co-axial Connector:(Model 765M27) - 2-pin MIL-C-5015 Style Connector Mounting: 1.125-12 UNF-2A Thread
Come visit Columbia Research Labs at www.crlsensors.com to view the entire CRL sensor line, or send a request to sales@crlsensors.com Our sales and engineering staff will be happy to help find an accelerometer that best fits your needs.
---