Exhaust/Seat Frame 1D Booster Benders
Product Announcement from Comco USA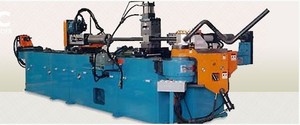 Precision 1D bends in a compact CNC tube and pipe bender!
When your specifications call for tight bends from your tube and pipe bender, the Comco KBB Series booster bender is the machine for you. The booster feature of the KBBSeries provides the additional power required to produce superior quality 1D bends in the most demanding materials. The fast 6 second average cycle time of the KBB Series gives you the competitive production rates while the Windows based controller reduces new part development time and provides virtually unlimited program storage capacity, allowing you to move between parts with a minimum of time and effort. When you add a Motoman robot or a Romer CMM to the machine, you can increase your production time as well as the accuracy of all your parts.
As with all Comco CNC tube and pipe benders, the compact design saves you valuable floor space and allows easy access for routine maintenance. Comco booster benders are proven performers in a wide range of applications including outdoor power equipment, automotive and aerospace applications.
Whether it's your first tube and pipe bender or a new addition to your tube bending equipment list, the powerful and precise KBB Series booster bender will provide returns on your investment for many years to come!
Features:
Reduced Cycle Times (less than 6 secs per process)
Compact Design (smaller footprint in your plant)
FlexPlus Controller Upgrade (Windows based for easy operation and programming)
Automation Ready (easily integrated to a new or existing workcell)
Adaptable Tooling (you can use your existing tooling)
Multi-Radius Capability
Improved Safety (additional E-Stops and Safety Light Curtains)
Wide OD Range
Guaranteed Quality
---