CV Series Very High Frequency (VHF) Power Supplies
Product Announcement from Comdel, Inc.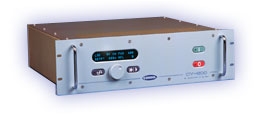 Performance: Comdel CV series power supplies offer stable VHF power at frequencies from 30 to 80 MHz. Configured within Comdel's standard control and monitoring package, the CV series offers exceptional ease of operation. RS-232 and analog controls are provided as standard; DeviceNet is optional. Synthesizer-driven, frequency agile configurations are also available on all CV series models.
Applications: These VHF solid-state generators are ideal for use in VHF plasma systems, solar cell and photovoltaics, CW and pulsed laser systems, and small geometry induction heating applications.
Features:

Active front panel with full controls and programmable microprocessor
Protection circuits safeguard amplifiers from over-voltage, over-current and over-power operating conditions
Rugged class "B" FET amplifier
Standard RS-232 and analog/digital control
Pulse capable
External frequency input
---