CX Series High Frequency RF Power Supplies
Product Announcement from Comdel, Inc.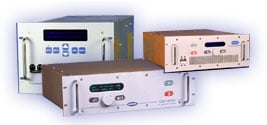 Performance: The CX series power supplies start at power ranges from 600 to 3500 Watts with fixed frequencies from 2 to 30 MHz, and frequency agile capability up to 10% bandwidth. The solid-state design provides low cost of ownership with high reliability.
Applications: The CX series is designed to meet the performance demand in RF-driven plasma systems for semiconductor processing, solar cell and photovoltaics. Applications include etch, RIE, parallel plate, ICP, RF sputtering, CVD and PVD, as well as induction and dielectric heating processes in industrial systems.
Features:
Patented S-Technology provides ultra-stable output
ETL Marked for product safety and SEMI F47 compliant
Local control via encoder and softkey inputs
Standard RS-232 and analog/digital control
Active front panel with full controls and programmable microprocessor
Control circuitry ensures consistency during high VSWR conditions
---