ESC-HV Electrostatic Chuck Power Supply
Product Announcement from Comdel, Inc.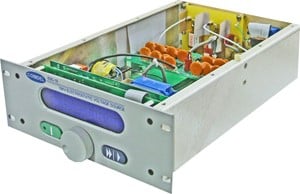 This user-friendly design contains parameter adjustments through variable controls, and is fully programmable to give the user maximum flexibility. Contained in a compact chassis weighing 2.5 lbs, the ESC-HV can be located in any convenient location and in any orientation.
Applications: The ESC-HV power supply provides reliable handling in large surface processes.
Features:
Low stored energy and built-in current limitations to safeguard from surges and arcs
Short circuit and open circuit proof design for enhanced reliability
No special requirements needed for cooling and shielding
Parameter adjustments through variable controls and fully programmable to give the user maximum flexibility
ESC-HV "Standard" Specifications:
Output type: Bipolar (fixed)
Output voltage: 5,6,7,8,9, and 10KV units available, intermediate voltages available, consult factory for more information
Output current: up to 5mA available depending on voltage
Output stability: 1% or better of output from 5% to full load
Output linearity: Better than 2% full scale
Power input requirements: Single 24VDC @ 2A maximum
DC power input: 3-pin Molex type, non-reversible quick disconnect
DC output: MHV connectors for HV+ and HV-
Remote interface: 25-pin D type female (DB-25f)
Cooling: None required Mechanical Specifications:
Size: 3.5"H x 9.5"W x 12.5"D (9cm x 24cm x 31.8cm)
Weight: 2.5 lbs. (1.1 kg)
---