Match Pro Impedance Matching Networks
Product Announcement from Comdel, Inc.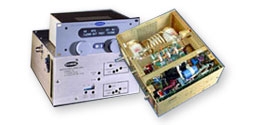 Performance: Every Match Pro system is engineered with Comdel's unique PROTRAK, a high-speed tuning algorithm that gradually slows the system as it approaches the tuning point, allowing a precise match even in high "Q" loads. This proportional control circuitry illustrates the critical difference between Comdel's Match Pro and other matching networks. The Match Pro adjusts input impedance to 50 ohms quickly, accurately and dependably--in response to the changes in load characteristics during your process.
The Match Pro operates over a power range from 50 to 50,000 watts.
Features:
Automatic and manual modes with local and remote manual control of tuning capacitors
Ability to pre-position capacitors to optimal plasma ignition point prior to turn-on, resulting in quick and reliable tuning
Capacitor position outputs to show where the match occurs from process to process
High power, H-bridge, Mosfet motor drive circuitry is conservatively rated for improved reliability

Play Match Pro Impedance Matching Networks Video
---