VF Series Multi-Channel Synthesizer Modules
Product Announcement from Comdel, Inc.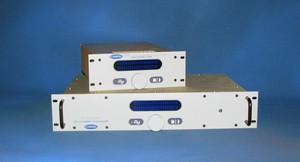 Comdel's VF series multi channel synthesizer modules provide phase adjustable output to avoid destructive arcing and cross-talk in multiple cathode plasma processing chambers. The VF series can accommodate up to 16 channels and may be programmed to any frequency between 2 and 60 MHz. Frequency changes are simultaneous and phase continuous. The phase of each channel can be adjusted to an accuracy greater than 0.1 degree resolution. The VF series allows adjustment for cable length dependencies.
The VF series is designed to meet the performance demand in RF-driven plasma systems for semiconductor processing. Applications include etch, RIE, parallel plate, ICP, RF sputtering, CVD and PVD, as well as induction and dielectric heating processes in industrial systems, and solar photovoltaic applications.
Specifications:
Input Voltage: 120VAC, 50/60 Hz
Input Current: 1A
RF Voltage Output: 500mV RMS minimum, 650mV typical (into 50 Ohms)
Frequency Output: 2-60MHz
Control: Local Operation, RS232 Operation
For further product information, visit Comdel or call 978-282-0620.
About Comdel, Inc:
Comdel, headquartered in Gloucester, Massachusetts, designs and manufactures RF and DC power supplies and process instruments for the semiconductor, flat panel, and industrial heating industries. Products include RF generators, auto-match impedance monitors, multi-channle synthesizers and electrostatic chuck power supplies that are in use worldwide by the industry's major equipment and IC fabrication manufacturers. With flexible power delivery solutions, the broadest frequency ranges available, rapid prototyping, product certification and safety compliance, Comdel provides responsive support and product solutions from its offices in the US, Europe and Asia. Comdel is ISO 9001:2000 certified.
---