A Hands-Free Option for the Hearing Impaired
Service Detail from Compass Electronics Solutions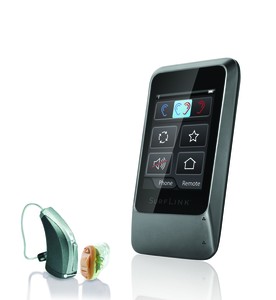 In the last decade there have been vast improvements to the functionality of modern hearing aids; creating superior levels of audibility, eliminating feedback, increasing wearers' comfort and providing stereo streaming capabilities. Bluetooth capability is one of the most recent innovations in wireless interfacing for hearing aids to audio sources, such as TV streamers or MP3 players. But even with all of these advancements, patients are still unable to effectively communicate on the phone. Current hearing aids cannot stream directly via Bluetooth to a mobile phone but rather do so through a secondary streaming relay device which is typically worn around the patients' neck. This body-worn relay device works as a microphone and must be kept in close proximity to the user's mouth in order to relay his or her voice back to the phone.
With today's proliferation of smartphones, wearing a device each and every day to use a mobile phone is a hassle. Starkey Hearing Technologies set out to work on a solution for hearing aid patients that eliminates the need for a body-worn device and that easily integrates into a modern lifestyle while still boasting superior audibility and affordability. To tackle the challenge, the company engaged Logic PD as a complete product lifecycle management partner, and together, collected a team of highly skilled designers and engineers.
Logic PD's designers, engineers, and manufacturing units teamed with Starkey Hearing Technologies to improve the experience of hearing-impaired cell phone users by creating and delivering the SurfLink Mobile, which eliminated the old body-worn relay device system and replaced it with an award-winning, Bluetooth-enabled mobile transmitter solution. By understanding user behavior, Logic PD was able to help design, develop and manufacture a device that allows hearing aid patients a completely hands-free, mobile experience.
See the full success story here to learn more about how Logic PD helped Starkey revolutionize the hands-free device market for hearing aid users.
CUSTOMER PROFILE
Starkey Hearing Technologies, one of the leaders in advanced hearing technologies, works to make peoples' lives easier through innovation. The company pioneers audiological research and development efforts and is present in more than 100 markets worldwide.