Big Data Transforms Geissler Corp's Future
Service Detail from Compass Electronics Solutions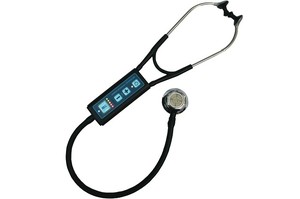 To change the way veterinarians diagnose and treat Bovine Respiratory Disease (BRD), Geissler came to Compass Electronics Solutions to design and develop the Whisper® stethoscope using our complete product lifecycle management services. This digital stethoscope uses sensors and a proprietary algorithm to capture, store and analyze lung sounds, for a more effective diagnosis. By collecting this data, Geissler had the opportunity to improve animal outcomes even further by pairing diagnosis information with successful treatment regimens.
Once deployed, the Whisper stethoscope unlocked new data that transformed the company's vision for the product from a solitary diagnostic tool to a subscription-based offering. To be successful in the market, Compass Electronics Solutions and Geissler deployed two business models, pay-for-use and pay-per-use, to create a scalable solution that eliminated the adoption barrier and worked for both small and large operations.
The introduction of an IoT mindset has shifted Geissler's vision for the Whisper stethoscope to one that captures ongoing value by use and revenue stream. Not only has the digital business platform changed how Geissler approaches their business, it also has changed how cattle producers view their operations. Today, there are over 400 Whisper stethoscopes deployed collecting nearly 800 new BRD records every day.
Download the complete success story to learn more about how Geissler transformed their business.
CUSTOMER PROFILE
Geissler Corporation specializes in the discovery and assessment of emerging technologies that have applications in the Veterinary Science market. Their latest work focuses on technology developments for the animal health industry and includes diabetic glucose monitoring microchips and artificial antibodies sensor systems.