Torpedo™ + Wireless: Tiny Wireless-Ready SOM!
Featured Product from Compass Electronics Solutions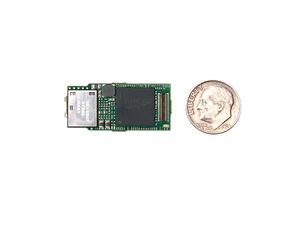 Combine a powerful applications processor with PC-like speeds and a wireless chipset with 802.11a/b/g/n, Bluetooth, and GPS support; toss in Android and Linux BSPs developed using processes compliant with the ISO 13485 medical system standard; and the outcome is an innovative off-the-shelf solution that reduces your development time and risk.
The Torpedo™ + Wireless System on Module (SOM) is an ultra-compact form factor built around Texas Instruments' DaVinci™ DM3730 or Sitara™ AM3703 processor and WiLink™ 7.0 wireless solution. Confining these two systems to a single board isolates the complex design, manufacturing, and wireless certifications from the rest of your product.
The DM3730 / AM3703 Torpedo + Wireless SOM occupies less than one square inch, but boasts PC-like speeds up to 1 GHz with long battery life. Partnered with such high performance is a startlingly low power consumption in suspend state. This balance of speed and power is accomplished through Compass Electronics Solutions' vast system design experience; understanding the most detailed workings of each component and their interaction with one another creates a product that operates at optimal efficiency.
The WL1283 wireless chipset provides access to all the wireless protocols required in today's connected world. 802.11a/b/g/n, Bluetooth, and GPS signals are natively integrated with the Torpedo + Wireless SOM and Compass Electronics Solutions BSPs.
By using the same connectors existing OMAP35x and DM3730 / AM3703 Torpedo SOMs, the DM3730 / AM3703 Torpedo + Wireless SOM extends the roadmaps of existing products and provides an upgrade path from today's products to future technologies.
The ultra-compact DM3730 / AM3703 Torpedo + Wireless SOM is an ideal off-the-shelf solution for applications in markets where network connectivity is required and space is a premium. From point-of-care medical products to handheld communication devices, the Torpedo + Wireless SOM allows for the powerful versatility and compact designs needed in today's market-changing products.
Contact Compass Electronics Solutions here for more details on ordering this SOM.

Play Torpedo™ + Wireless: Tiny Wireless-Ready SOM! Video