From Zero to Chrome in Seconds!
Featured Product from Competition Chemicals, Inc.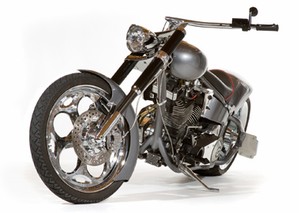 Go From Zero to Chrome in Seconds.
Motorcycles. Hot rods. Custom cars. Simichrome is the metal polish that bikers, racers and rodders have used for decades for one simple reason:
IT WORKS! Every kind of uncoated metal surface - wheels, exhaust pipes, engine parts, bumpers - will shine brighter with Simichrome.
Just use a dab of Simichrome on a clean cloth and buff to a brilliant shine, leaving a protective coating to help the shine last longer. Besides chrome, use Simichrome on magnesium, aluminum, alloys...any uncoated metal surface. And you don't need a custom hot rod.
Simichrome works great on any car or truck. Available in convenient, 50 gram tubes.
Ask for Simichrome by name at motorcycle dealers, better automotive parts stores, antiques dealers, jewelers, bicycle shops, gift stores and more
Cut to the Chase with BlueAway BlueAway is a specially formulated product to remove the "blue-ing" or heat-caused discoloration caused on chrome exhaust pipes on motorcycles or custom cars. For really tough jobs, start the cleaning process with some BlueAway and follow it up with a Simichrome shine.
Product Applications:
A dedicated aluminum polish, Simichrome is not abrasive and will leave a protective layer that will help lengthen the time between touch ups.
Hit your chrome pipes with a one-two punch of BlueAway "blue-ing" removal and a Simichrome polishing shine.
Simichrome removes rust and polishes up aluminum or chrome until it looks like new, but won't leave any scratches or abrasive marks.
Try it Once, You'll Use it Forever.
Metalworking, plastics and other industries have known for years that Simichrome is the perfect product to polish tool and die molds, extrusion dies, precision metal products, machinery - anywhere an ultra fine final polishing is required. Metalworking industries have been using Simichrome for product finishing applications for decades. In addition to being a superior polishing product, Simichrome is also an excellent purging compound to remove residue on mold and die cavities after prolonged molding of plastic parts.
Simichrome is designed to polish without scratching any ferrous or non-ferrous metal. It yields an unequaled smooth finish and may be used with confidence when polishing even the most delicate, precision equipment and parts. Plant maintenance professionals have found it to be the perfect polish for a number of cleaning applications. A unique, non-toxic and non-corrosive compound, Simichrome is also a great time and money saver. Available in 50 gram tubes, or money-saving 250 and 1000 gram cans
Have You Heard About Blue Away?
BlueAway is used to clean tool and die molds using phenolic, epoxy or other similar compounds. The product is also an excellent cleaner used to remove the heat-caused "blue-ing" from stainless steel welds and more. Available in 2.5 ounce and 47.47 ounce bottles
Produt Applicatons:
Simichrome polish can bring sparkle to your kitchen, resturaunt or catering business with appliances and utensils that "reflect" your cooking
Besides being a superior mold and die cleaner, Blue Away removes heat caused discoloration from stainless steel welds.
Metalworking industries have been using Simichrome for product finishing applications for decades.