Die Mold Polishing and Purging Compound
Featured Product from Competition Chemicals, Inc.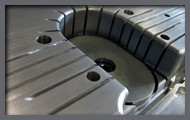 Metalworking, plastics and other industries have known for years that Simichrome is the perfect product to polish tool and die molds, extrusion dies, precision metal products, machinery - anywhere an ultra fine final polishing is required. Metalworking industries have been using Simichrome for product finishing applications for decades. In addition to being a superior polishing product, Simichrome is also an excellent purging compound to remove residue on mold and die cavities after prolonged molding of plastic parts.
Simichrome is designed to polish without scratching any ferrous or non-ferrous metal. It yields an unequaled smooth finish and may be used with confidence when polishing even the most delicate, precision equipment and parts. Plant maintenance professionals have found it to be the perfect polish for a number of cleaning applications. A unique, non-toxic and non-corrosive compound, Simichrome is also a great time and money saver. Available in 50 gram tubes, or money-saving 250 and 1000 gram cans