Custom Wireform Manufacturing to your Specs
Service Detail from Components Corporation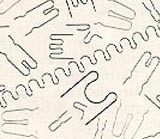 Components Corp can design and custom manufacture:
Connector Contacts, Spring Contacts, Test Points, Terminals, Jumpers, Retaining Clips, Ground Clips, Shielding Contacts. Specifications: Materials: Round Wire: .012" - .040" diameter wire Flat Wire: .010" - .030" thickness, Width up to 3/8" Maximum Blank Length: 3" Wire Alloy: Copper, Brass, Phosphor Bronze, Beryllium Copper, Copper-Nickel-Tin Our Capabilities Include: Product Design Engineering, In-House Tooling, Precision Heat Treatment of Beryllium Copper, Radial Lead Taping, Surface Mount Taping
For over forty years, Components Corporation has specialized in wireform interconnect products for the electronic packaging industry. Through the production of our patented DIGI-KLIP, printed circuit connector and related products, we have developed a unique capability in wireform fabrication. Applying our knowledge of interconnect technology and experience in forming precision alloy materials, we have produced many novel and low cost tooling techniques to provide custom wire devices at competitive prices.
We invite you to take advantage of our expertise. Provide us with a drawing or sketch of your requirements and we will supply you with an exact quotation, specific to your needs and within your budget.
Certificate of Compliance with Directive 2015/863/EU RoHS and EU Regulation EC 1907/2006 This is to certify that Components Corporation designs, manufactures and supplies products to our customers that are in compliance with Directive 2015/863/EU RoHS and EU Regulation EC 1907/2006, 84 SVH. This also pertains to procurement of raw material, component parts and processes.