PJ-201 Series of Printed Circuit Preform Jumpers
Featured Product from Components Corporation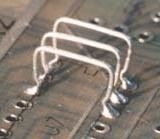 The PJ-201 series is the low cost alternative for the circuit designer's printed circuit mounted, jumper requirements. Numerous standard offerings in spacing dimensions eliminate time consuming and costly fabrication of jumpers by production personnel. The preset, "above board" positioning of this series guarantees adequate clearance across circuit board paths and precludes the need for expensive teflon insulation in many applications.
The exclusive detented leg design insures positive positioning and retention of the PJ-201 series during wave soldering operations. Due to its spring brass construction, this jumper will provide a rugged installation, resistant to damage and possible short circuits.
As well as serving a jumper function, the PJ-201 can provide a simple, reliable and economical means for the "hard wire" programming of circuit board logic. Operations of multi-function, logic card modules may be permanently dedicated through the cutting of appropriate PJ-201 jumpers on the board.
Certificate of Compliance with Directive 2015/863/EU RoHS and EU Regulation EC 1907/2006 This is to certify that Components Corporation designs, manufactures and supplies products to our customers that are in compliance with Directive 2015/863/EU RoHS and EU Regulation EC 1907/2006, 84 SVH. This also pertains to procurement of raw material, component parts and processes.