Phosphor Bronze Test Points
Featured Product from Components Corporation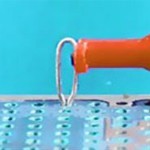 Download information of this product (PDF)
TP-103 Series
Phosphor Bronze Test Points
With the incorporation of the TP-103 series of printed circuit board mounted test points, significant improvement in function, profile and safety may be realized over the use of .025" square wire wrap posts, the unique loop profiles of these units insure a secure anchor for spring loaded test hooks and scope probes; above board heights are dramatically reduced and technicians need no longer fear puncture wounds when involved in circuit "Trouble Shooting."
Formed from a phosphor bronze alloy, TP-103 test points fit in the same hole diameters formerly occupied by wrap posts. No re-design costs are involved in the application of this product series.
Three part numbers are available in the TP-103 series: The TP-103-02-T offers a loopheight of .200" and provides sufficient profile for most conventional printed circuit board designs. The TP-103-03-T is an ultra low profile version compatible with the component height dimensions of surface mount devices. The TP-103-04 has a longer length of .310".
Components Corporation
With our years of commitment to electronics industry professionals, Components Corporation remains the leading wireform interconnect product manufacturer today. We strive to meet the challenges put forth in the development of circuit board interconnect products with our "no failure" credo.. From the developments of the DIGI-KLIP® series of free-standing card edge connectors to the classic TP Series of printed circuit test points, we have built a reputation as the trusted, innovative force in the development of circuit board hardware technology.
Our wide-range of circuit board interconnect products includes:
PC Mount Wireforms
Sockets, Shunts and Headers
Offering More than Just "Out-of-the-Box" Solutions
Components Corporation, being a card edge connector manufacturer, has always prided itself as being able to supply custom wireform products to our customers. Because of our advanced skill in developing these products, we are able to offer customers the option of creating their own precision-crafted wireform product tailor-fit to meet their needs.
We are able to stand behind the quality of our work and assure its integrity.
Learn more about our custom wireform development.
All Our Parts are RoHS and REACH Compliant
All of our parts are manufactured utilizing our proprietary technology to ensure the highest standards in performance. Our components may be confidently specified for use in a wide range of mission-critical consumer, medical, and aerospace applications. All are abiding by the current Directive 2015/863/EU RoHS and EU Regulation EC 1907/2006.