Mobile Antennas
Product Announcement from Comtelco Industries, Inc.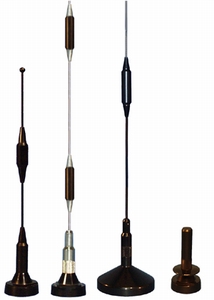 Comtelco antennas use a rugged .125" diameter stainless 17-7 steel tapered whip in our standard base loaded antennas. Many of their competitors use only a .100" diameter whip. The difference can be seen in the excessive bending that a lighter duty whip exhibits when mounted on a moving vehicle.
Comtelco antennas have an enclosed silver-plated phasing coil and feature a .125" diameter stainless whip below the coil. This gives us a more robust whip than units with only a .100" diameter whip.
Their High-Q loading coils are wound and 100% tested before and after assembly to insure proper operation. Their coils are larger diameter allowing Low Band coils to be built in the same low profile base as our VHF and UHF models. They have provided more frequency splits in our shunt fed base loads. This allows better frequency matching throughout the bandwidth.
Most of their black whips are epoxy powder coated so there is no chipping or flaking, a problem that is encountered with chrome.
Comtelco introduced the first spring-loaded contact in a mobile antenna and continues to develop and improve this technology. Gold plated center contacts are standard on all spring loaded contact models.
---